Collection:

Electrolyte Rehydration Powder
Our award winning range of rehydration powders are designed to prevent dehydration and provide rapid action hydration. Proudly the UK's most loved, most reviewed and highest rated single serve rehydration sachets.
Simply pour, mix, drink to create our premium electrolyte drink. 
Nothing hydrates faster
Rapid Rehydration Powder
Award winning rehydration sachets
Revival products have been developed by leading doctors and nutritionalists. Our formulation has been engineered with scientific research to create a hydration powder that delivers on our promise of rapid rehydration.
Our range of hydration powders have been designed to out perform traditional electrolyte drinks and hydration supplements. Our formulation contains 3 x the electrolytes of conventional supplements plus 5 essential vitamins. In addition our format provides up to 68% higher levels of absorption and 14 x faster assimilation. Our range is:
- 100% Vegan
- GMO Free
- Great Taste
- Easy Mix
- Fast Acting
- No Added Sugar
- Environmental Friendly
Pour - Mix - Drink
To use Revival, tear open the sachet and mix the contents with 500ml of cold water

Live Your Best Life
We believe that everyday should be your best day. Unfortunately as many as 75% of us are dehydrated, many of whom don't even know it. If you find you are often lacking energy or feeling lethargic, unable to focus, have prolonged recovery times and suffer from frequent head aches or muscle cramps it may be a sign of dehydration.
Revival is a multi-functional electrolyte powder and we service a diverse range of customers from competing athletes, to busy city workers and those with an active lifestyle to name just a few.
Revival can help to:
- Boost Performance
- Accelerate Recovery
- Maintain Daily Hydration
- Support Focus
- Provide Natural Energy
Our rehydration sachets can be taken daily, or as needed, depending on your goals.
Check out our full range here
Revival is intended to be taken as part of a balanced diet. For best results, use as instructed.

Illness and Electrolyte Replacement
Electrolytes are lost when we loose fluids. Typically in cases of illness if an individual is exhibiting symptoms which include excessive sweating, diarrhoea or vomiting there is a real danger of causing an imbalance within the body. As such it important that in such cases there is some form of active electrolyte replacement. Effective rehydration treatment will help to replace lost salts and fluids, which are extremely important in the recovery process.
Revival treats dehydration caused by illness and provides a fast and effective means by which to replace lost salts.
Love It Or Your Money Back
Try risk free today! We are so confident that you will love Revival that we will offer you a full refund if you are unsatisfied. Simple reach out via our contact page and one of our team will take care of the rest
Revival vs Other Electrolyte Supplements
Products such as electrolyte tablets and pills as well as isotonic sports drinks have been around for quite some time. However since these products were first introduced to our shelfs there has been very little development or improvement, in fact some of the brands from the early 90s still continue to sell the exact same products in the exact same format as they first launched all those years ago.
In the time since they first launched there has of course been significant advancements in science, technology and our understanding of the human body. Revival was developed with this new information in hand. One of the problems with tablets and pills is the time it takes our bodies to break them down, it is estimated that it can take anywhere between 20-30 minutes, as Revival is water soluble the time is faster, much faster in fact. Assimilation from a water soluble supplement can take between 1-4 minutes, thats up to 14 times faster. It is one of the reasons why we say we have a "rapid action" formula. Secondly, the level of absorption in traditional formats is much lower, estimated at around 30%. Revival formula allows for up to 98% absorption of active ingredients. As such our formulation is not only 14 x faster but 3 x as effective.
Our presentation allows us to be compatible with the demands of modern life. Our single use stick packs can easily fit into a bag or a pocket, the single use design allows for unrivalled convenience.
It is a similar case when Revival is compared against other rehydration sachets. Most other sachets contain 3 - 5 grams, each stick of Revival contains 10 grams. It is one of the key reasons why on average we have 2.5 x the electrolyte content of many of our competitors. Revival is also packed full of 5 essential vitamins that can help support immunity, cell formation, memory, natural energy promote health skin and much more.
We analysed over 100 competitors and found that they had, on average 1.4 flavour offerings. The Revival range includes 6 premium flavours:
- Orange Burst
- Watermelon
- Tropical Berry
- Wild Cherry
- Lemon Lime
- Summer Fruits
Check our our full range here
Our range of hydration supplements are proudly made in the UK in our state of the art BRC certified facility using only the finest ingredients. The number 1 place to buy rehydration powders online.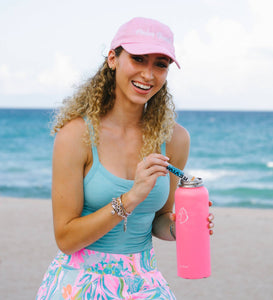 What Are Electrolytes
As the name suggests electrolytes are chemicals which when dissolved in water carry an electrical charge. They also play an essential role in the normal function of our bodies, hence why it is extremely important to ensure that we always have a balance. Among other things they assist with:
- Regulation of fluid levels in blood
- Maintenance of PH
- Correct function of muscles
- Synthesis of new tissue
- Transmission of signals between nerve cells
Electrolytes are lost daily through fluid, most commonly sweat, as such intense exercise may increase the rate at which they are lost. Similarly in cases of illness, vomiting will accelerate this too. Given the importance of them within out bodies it is vital that we look to replenish lost electrolytes.
Replacing electrolytes can be done naturally through our food or drink.
Foods such as kiwis, avocados, broccoli, kale, watermelon, orange, chicken, turkey etc. And drinks such as milk, coconut water, fruit juice are all great ways to naturally replenish levels.
What Do Our Customers Say
" Revival is the only rehydration supplement I recommend to my clients. Great taste, easy mix and gets to work immediately - you can really feel the difference! " 

Harvey Lock - Personal Trainer 
" Great tasting electrolyte drink, the perfect supplement to support my active lifestyle "
Millie Roberts
" I struggle to drink enough water in a day and I often feel run down and tired. Revival has been a revelation, I take 1 stick every morning and it really helps to kick start my day, I feel fresher and more alert throughout the day "
Lucy Skipton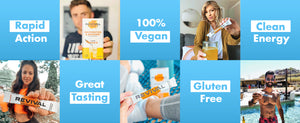 Did you know? Being just 1% dehydrated can negatively impact your mood, memory, attention and co-ordination!
Vitamins
As well being packed with electrolytes Revival contains vitamins B1, B3, B5, B12 and C. These vitamins are essential for the normal function of our bodies.
Vitamin
B1 - Also known as thiamine allows the body to break down carbohydrates into energy (metabolism of glucose). It also helps support nerves, muscles and even heart function.
B3 - Also know as niacin helps to break down carbohydrates, fats and proteins into energy. Plays an important role in the production of hormones and liver function.
B5 - Also known as pantothenic acid Is critical in the synthesis of new red bloods cells and in the production of hormones produced in the adrenal glands.
B12 - Is essential for the normal function of the bodies nerve and blood cells and helps in the production of DNA. Like other B vitamins it also helps to convert food into glucose (energy)
C - Also knows as ascorbic acid plays a key role in protecting cells, supporting immunity and maintaining healthy skin, blood & bones. It is also a great antioxidant.
The Human Body Is 60% Water
Water makes up such a large part of us and is so vital for so many of our core functions including
- digestion of food
- expulsion of waste
- lubricate joins
- regulation of temperature
- function of brain
- protection of tissue
- immunity
- blood circulation
- regulation of mood
It is soo important that we actively work on remaining hydrated. It is recommend that we drink 8 glasses of water each day, but if you are struggling to do so it may be time to consider hydration supplements such a rehydration drinks!
For more information about maintaining hydration be sure to check out the NHS pages which have some great additional information on the subject.
Did you know: Our lungs are made up of 83% water!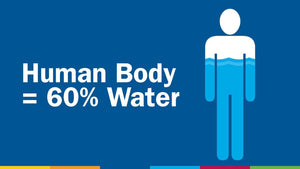 We Are All Different
Like with most things when it comes to hydration we are all different and individual requirements are likely to vary depending on the person and also a host of environmental and lifestyle factors. It is therefore vital that we move away from a "one size fits all" approach.
Lifestyle
Our life choices will heavily impact our requirements. For example those who regularly exercise are likely to require a higher rate of fluids in order to maintain balance. the same might be true for an individual who is drinks excessive amount of diuretics (drinks that dehydrate you) such as coffee, fizzy drinks and alcohol.
Environment
Environmental factors such as climate are also likely to have an overall bearing on our water profile. Typically, in hot countries, there is a greater risk of loosing water through sweat as such there will be more of a requirement to replace fluids.
Individuals
Like with anything we are all different, some of us will naturally retain water better, some will absorb at a faster rate, some will sweat more/ less than others, the list really goes on. But it comes down to us all being individuals with specific needs.
The moral of the story is quite simply do what is right for you. Work out your needs, experiment and see what works best!
Good For You, Good For The Planet
Our mission statement is to "Be The Change" in an industry which, traditionally, been a heavy contributor to carbon emissions and consumer of single use plastics.
Our boxes have recently been redesigned and are now 100% self locking, glue free cardboard. Our sticks contain 99% less plastic when compared to the equivalent bottle or tube. Further more the transport and storage emits 99% less carbon. We aiming to be plastic free within the coming months.

Stay Connected
Be sure to follow our instagram page to keep up to date with all the latest Revival news